Washi Paper Flower Vase Cover in 5 shapes
This flower vase cover combines the beauty and softness of Washi paper.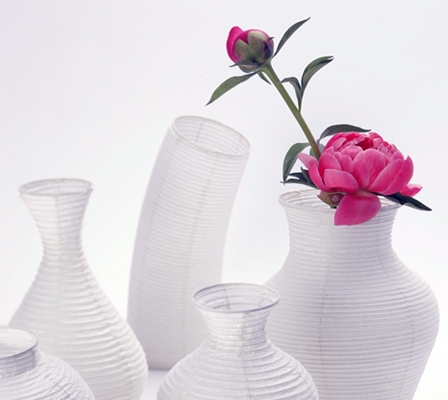 After arranging flowers in a plastic bottle or any empty bottle, place the bottle in this flower vase. Look how stylish it becomes! Using Japanese traditional Washi paper, Fores created these flower vase covers. The color and shape match various interior designs, including Scandinavian style and modern style. In addition, when not used, it can fold down like a Japanese lantern to save space. Three simple and artistic shapes are available. This beautiful flower vase cover reflects the soft impression of Washi paper.
Item number
RIN-11 RIN-12 RIN-13
Manufacturer
HAYASHI KOHGEI Co.,LTD.
URL
E-mail
Product Information
Material: Kozo Washi
[RIN-11] Diameter 17.6 × H 21.6 cm
[RIN-12] Diameter 17.6 × H 28.3 cm
[RIN-13] Diameter 11.2 × H 33.0 cm

Comment
Kami no Kabin won the Good Design Award 2013.
[RIN-14] Diameter 12.0 × H 23.6 cm and [RIN-15] Diameter 16.0 × H 28.5 cm are also available (The series include 5 types).
- Do not put water directly in the flower vase cover.
- For wholesale, one lot consists of 5 items. For retail, single items are available at an extra cost.

JPW003402