Forest Diffuser
Made from natural materials of Hinoki cypress and bamboo, the diffuser spreads aromas gently.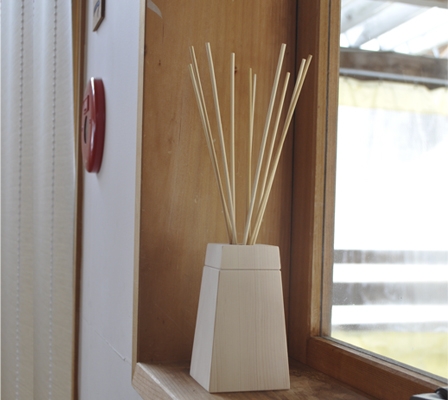 This "Forest Diffuser" is a safe and ecological aroma diffuser, requiring neither electricity nor fire. Simply by setting a bottle of essential oil into the cypress body and inserting fragrant bamboo sticks, gentle aromas are diffused due to the natural transpiration effect. The body is made with Hinoki cypress grown in Hida Takayama. The fragrant sticks are made of domestically-produced bamboo. The simple structure and design make for easy maintenance. Enjoy natural aromas as a contribution to interior design.
Manufacturer
Sei-Plus Co., ltd.
TEL
+81-577-68-3088
URL
E-mail
Product Information
[Diffuser body]
Material: Hinoki cypress
Size: 7 cm square(base) × 5 cm square(top) × 12 cm(H)
[Fragrant sticks]
Material: bamboo (10 sticks)
Size: φ0.3 cm×25 cm long

Comment
Because solid wood is used for the body, each product has a different grain. Some may include knots.
OTH004504