Deo Nadeshiko
Super-mini sized towel woven with yarn containing deodorant components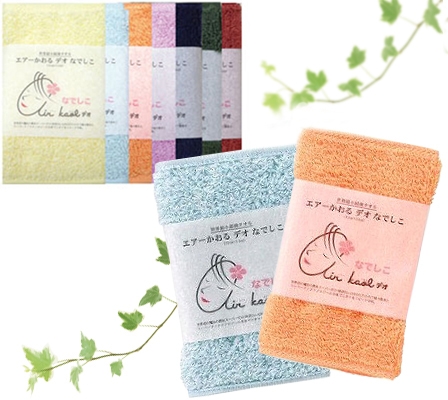 The eucalyptus-derived eco-material "Lyocell" is blended with cotton fiber. A deodorant substance is worked into this fiber that chemically eliminates the sources of ammonium gas (urine odor), acetate gas (sweat odor), and isovalerate gas (foot odor). It brings about an instant deodorizing effect. When the deodorant component of the Deo-thread comes into contact with foul air, neutralization occurs to eliminate the odors. Even after the neutralization is repeated many times, the effect remains almost permanently, without becoming saturated. In addition, the deodorant effect is hardly weakened by washing.
Manufacturer
ASANO NENSHI Co., LTD.
URL
E-mail
Product Information
Size: 32 × 14cm
Weight: 18g
Color: lemon yellow, orange, sacs blue, Nadeshiko (pink), dark green, navy blue, wine red
Material:Cotton 92% and Deo-Cell deodorant fiber 8%
Comment
- Depending on the PC and monitor settings you use, the color may look different from that of the actual item.
TEX006202