Mori no Kotoba Series
Furniture collection with knots as part of the design
Enjoy the warmth of wood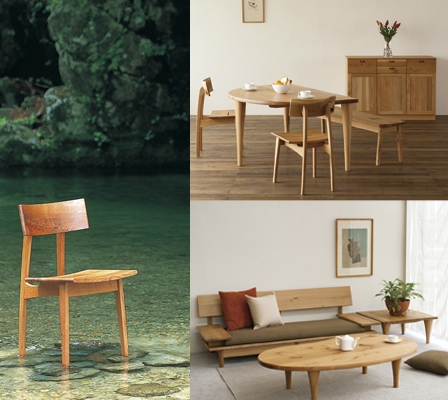 Typically only 10% to 25% of an entire log is used in furniture making. In order to appreciate the unique characteristics of each tree and to utilize valuable resources, a collection of furniture, designed by Toshimitsu SASAKI, was born featuring the knots as the main design element.
"Chair SN210" – Bentwood backrest and seat pieces feature knots as accents. With our advanced technique and experience, backrests are bent without breaking the material around the knots.
"Sofa 2P SN105W" has a low seat height that blends better with the floor seating culture of Japan. It has won the Good Design Award in 2002.
The semi-circular shape of "Table SN390WP" lets you choose the proximity between you and others depending on where you sit around this table. Table comes with screw-in legs and they can be easily removed when rearranging your furniture or during the move.
Manufacturer
Hida Sangyo Co., Ltd.
URL
E-mail
Product Information
Mori no Kotoba Series includes dining room/living room furniture, beds, and more.
The main material is oak (which may include some knots)

- Chair SN210
Dimensions: 44W × 52D × 81H (cm)
Seat Height: 42.5 cm
Seat cushions are available and sold separately.

- Sofa 2P SN105W
Dimensions: 169W × 84D × 67.5H (cm)
Seat Height: 29 cm
Armrest Height: 34 cm
Various sizes available
Sofa with backrest cushions is also available.

- Table SN390WP
Dimensions: 150W × 100D × 70.5H (cm)
Rectangular and bean-shaped tables are also available.

Comment
- Safe and environmentally-friendly oil finishes
- Made-to-order furniture collection
WDF000802