Sawara Cypress Edo Bin
Excellent traditional Japanese tool for keeping the flavor of rice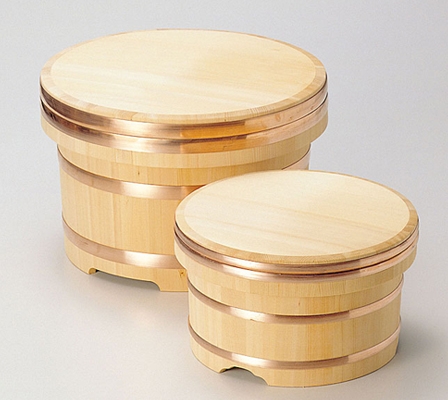 This is an excellent tool that has traditionally been used to absorb extra moisture from cooked rice and keep the flavor. With moderate thickness, it is made of a high quality "Kiso Sawara cypress" long known as one of five precious Kiso trees. The Sawara cypress is penetrated by fine moisture and air to maintain the appropriate humidity, preventing the rice from getting too steamy. In addition, the modest fragrance of the wood does not disturb the aroma of the food. It is appreciated not only as a cooking tool but also as tableware. In addition to those listed, various types and sizes are available both for home-use and professional-use.
Item number
S:04102 M:04104 L:04105
Price
S) JPY 13,500
M) JPY 19,000
L) JPY 22,000

Manufacturer
Yamacoh Co., Ltd.
TEL
+81-573-75-3470
URL
http://yamaco.jp/kaigai/engpage.html
E-mail
Product Information
Size/Volume:
S) Diameter approx. 21 x H 14 cm / approx. 0.9 liters
M) Diameter approx. 27 x H 17 cm / approx. 1.8 liters
L) Diameter approx. 30 x H 18.5 cm / approx. 2.7 liters

Material:Sawara Cypress

Comment
- The body size is listed above.
- Contact us for items with sizes and specifications other than those listed above.
- As it is made of natural wood, the color tone and wood grains may be slightly different from those in the pictures.

WDF003204