SASHIMI Plate
Boat-like plate to serve sashimi gorgeously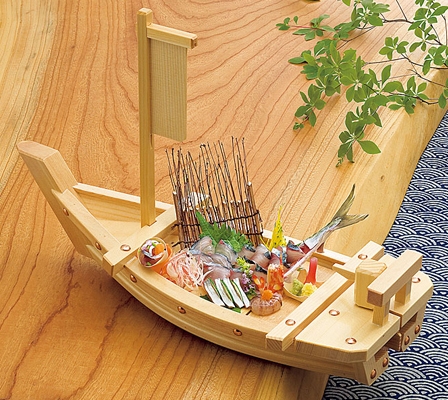 This is a boat-shaped plate for serving sashimi, called "Funamori." Funamori is prepared by cutting fish into meat, head, backbone, and tail, followed by arranging these parts back into their original position to reconstruct the fish. Such beautifully served dishes have an outstanding visual effect. The shallow Sawara Asahi (rising sun) tray makes it easy to serve food. This sashimi plate reflects the artisans' enthusiasm to improve their skills and their delicate work to create precision products.

1)Plain wood river boat type
2)Sawara cypress shallow tub
Item number
1:41103 H-77 2:30190
Price
1) JPY 21,000
2) JPY 4,300

Manufacturer
Yamacoh Co., Ltd.
URL
http://yamaco.jp/kaigai/engpage.html
E-mail
Product Information
Size:
1) Approx. L 77 cm (perforated plate - approx. 41 x 20.5 cm)
2) Diameter approx. 21 cm x H 6 cm (inner height approx. 2.5 cm)

Material:Sawara cypress

Comment
Both products 1) and 2) are available in different sizes.
- Contact us for items with sizes and specifications other than those listed above.
- As it is made of natural wood, the color tone and wood grains may be slightly different from those in the pictures.

WDF003205