Minami Gama Tonsui
Lovely shaped Tonsui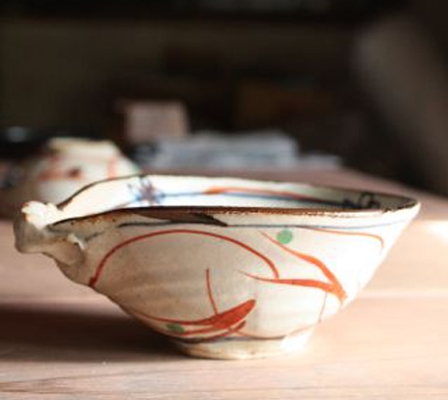 "Tonsui" is a small lipped bowl which can be used for serving nabe dishes individually, for example. You can also use it to pour tempura dipping sauce. This bowl has the shape of a lovely bird in a slightly smaller size than that of conventional bowls. It can serve various uses to suit your ideas for serving both Japanese and Western cuisine, for example as a sashimi plate, a soup cup, a salad bowl, and more. The warmth of Tonsui reflects the potter's personality.
Manufacturer
Minami Gama
URL
E-mail
Product Information
Size: approx. 15 x 12.5 x 5.5 cm


Comment
Microwavable, dishwasher-proof, and oven-proof
- There are three types: red-figured iron-brushwork grid pattern (red), Annnam flower pattern (blue), and Oribe line pattern (green).
- Due to being handmade and hand-painted, each cup has a slightly different shape and pattern.

CER004202