The AOGAMI Japanese-Style Knife Series
The AOGAMI series is carefully and individually handcrafted by the skilled craftsmen.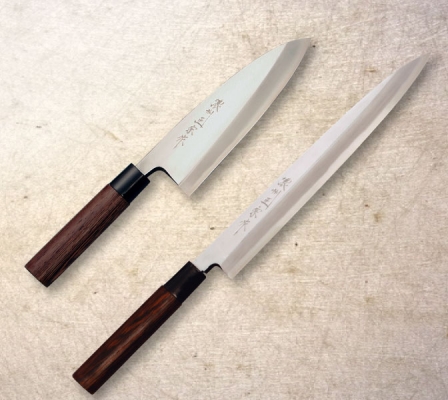 The main characteristic of the traditional Japanese-style knives is their sharpness, which enhances the appearance of food.
The heel of the blade is rounded off to avoid hurting your fingers. The handle is gentle to touch and easy to grip.
The highest quality metal called "AOGAMI" is used for the blade, featuring the outstanding sharpness and durability.
Manufacturer
Satake Cutlery Mfg. Co., Ltd.
URL
E-mail
m-sata.satakecutlery@diary.ocn.ne.jp
Product Information
Blade: Forged High Carbon Steel "AOGAMI" (Hitachi Blue Steel)

Handle: Wenge

Available Sizes:
- Deba (Broad Bladed Knives)
120mm,150mm,165mm,180mm,210mm
- Sashimi Knives
210mm,240mm,270mm,300mm,330mm

CUT014702