Junmai Ginjo Genshu Sakaori Tanadamai Jikomi 720 mL
This pure rice unprocessed sake is made of rice grown in "Tanada" stone-lined, terraced rice fields in Ena-City Gifu, listed as one of the "100 terraced rice fields in Japan."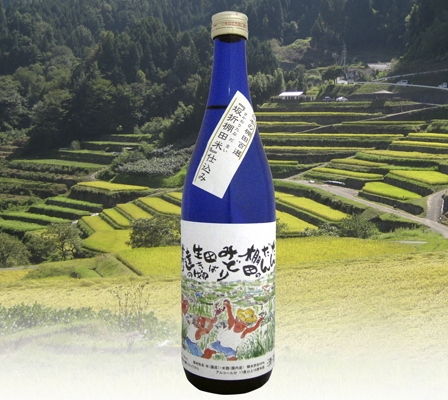 This flavorful sake is derived from rice that is carefully grown in a terraced rice field with clear water. Due to the small production amount, this sake is a very precious brand. A superior quality, dry sake, it has a clear taste, while maintaining the rich body and full aftertaste of unprocessed sake. In cooperation with the Society for Ena Sakaori Tanada Preservation (NPO), Chigonoiwa has been brewing Japanese sake from Tanadamai rice. Chigonoiwa has been also engaged in environmental protection through sake brewing, in consideration of the reduction of CO2 emissions.
Manufacturer
CHIGONOIWA Sake Brewery CO., LTD.
TEL
+81-572-59-8014
URL
E-mail
Product Information
Volume: 720 mL
Materials: Water, domestically-produced rice, domestically-produced rice malt
Alcohol content: 17.5%
Nihonshudo (Sake Meter Value): +9
Percentage of rice milling: 55%
Taste: Dry
Expiry: 6 months based on the company standard (Japanese sake does not usually have an expiration date)

Comment
- Store away from direct sunlight and hot/humid conditions.
FOD001203